---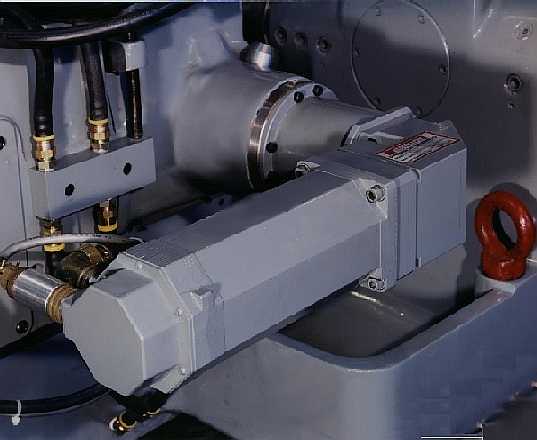 Variable Speed Reg Whl Attachment
The age of manual transmissions is over. In today's high-precision world, what is needed is direct drive control of the regulating wheel. This drive delivers the flexibility and performance you desire while improving the quality and roundness of the ground parts. Accurate, closed-loop servo control of the motor delivers a precise RPM that can be varied infinitely over the range of speeds. In addition, the elimination of manual and hydraulic transmissions minimizes vibration in the reg wheel spindle, thereby improving roundness dramatically.
This drive is available in two configurations: Stand-Alone and Coupled with the Servo Infeed Attachment
In Stand-Alone mode, we offer RPM control via a potentiometer for controlling the normal run-speed while a selector switch provides the capability to jump directly to dress speed and return to normal run-speed when finished.
When coupled with the Servo Infeed Attachment and its standard touch screen controls, one gets the most flexible package available. We offer the ability to set a different RPM for each stage of grinding (see the write-up on the Servo-Infeed). In addition, in thrufeed mode, controls on the run screen permit direct feedrate override to easily speed up or slow down the pace of grinding.
The touch screen controls are designed to ease set-up and maintenance. A touch of a button transitions from your normal run-speed to dress-speed (typically 250 - 300 RPM). When dressing is finished, another on-screen button returns the wheel to your normal run-speed.
Key Benefits
Precision Infeed Axis movements

Resolution: 0.000004" (0.1 µm)
Repeatability: 0.0001" (0.25 µm)

AC Digital Brushless Servo Motor and Amplifier

Precision Ground Ball Screw with zero-backlash nut assembly

60 : 1 Harmonic Drive coupled with Servo Drive and Ball Screw

Allows small incremental motion of slides.
Ensures better repeatability for grinding cycle
and fine compensation.
Other gear ratios available on request.


Open PC Architecture

Modern class processor
Delta Tau PMAC Motion Controller


Software supports both Infeed / Thrufeed grinding applications

Operator-friendly Color Touch Screen with familiar Windows-based interface. No prior computer experience necessary!

Dedicated software designed especially for Centerless Grinding.

Can be integrated with other CNC options and accessories
Can be customized to suit different applications.
Unlimited Part Programs stored on hard drive for future retrieval.
Fifty character file name and description stored with each part.


Infeed Mode

Supports six stages of grinding:
Unload, Load, Start Grind, Rough, Semi-Finish, and Finish
Each stage has its own feedrate and dwell available.
With Servo Reg Wheel, set a different RPM for each stage as well!
Single / Continuous Cycle Modes
Fine / Coarse Compensation
Dress reminder available (after a pre-programmed number of cycles).


Thrufeed Mode

Enter final and retract diameters.
Fine / Coarse Compensation
Store blade height and reg whl angle with the part for easy reference in the future
Dress reminder available (after a preset time).


Stand-alone enclosure for controls.. Can be retrofitted in the field.

Can be installed on new or used grinders. Superior can also rebuild your infeed slides prior to installation of attachment to ensure optimum performance.